I can honestly say that I received one of the best Christmas presents ever this year. It put the biggest smile on my face AND it made my heart melt.
About the time that the kids were halfway through opening their gifts on Christmas morning, Julianna stood up and handed me this:
You see, her Mama never did get around to taking the poor baby and her little brother shopping this year the way her older brothers got to do. I know. I stink. So she was forced to go on her own
resourcefulness:
It doesn't get ANY better than that, I promise you. Even the gift card to my favorite restaurant with free babysitting didn't hold a candle.
But that's just my $.20 worth,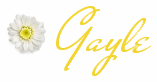 P.S. I hope every single one of you had a Mare Crsmes.